Adobe Acrobat Reader DC software is required in order to sign PDFs and incorporate that signature into a file. If the information below is different from what you see, please go to the adobe.com website to download the latest version of Adobe Acrobat Reader DC. If you are viewing a PDF on the web, download the PDF first before you sign it. Also, make sure the rest of the PDF is completely filled out before you sign.
To sign a PDF document, you can type, draw, or insert an image of your handwritten signature. You can also add text, such as your name, company, title, or the date. When you save the document, the signature and text become part of the PDF.
Open the PDF document or form.
Choose Tools > Fill & Sign.
Click the Sign icon in the toolbar, and then choose whether you want to add your signature or just initials.

If you have already added signatures or initials, they are displayed as options to choose.
4. If either your signature or initials have been added already, just select it from the Sign options and click at the place in the PDF where you want to add your signature. Skip to the step 5.
If you are signing for the first time, you will see the Signature or Initials panel display. Below is an example of the Signature panel.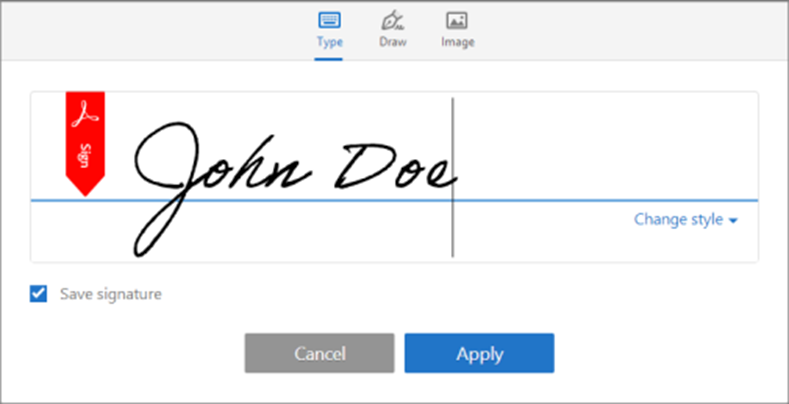 You can choose to type, draw, or import a signature image. Added signatures and initials are saved for future use.
· Type: Type your name in the field. You can choose from a small selection of signature styles; click Change Style to view a different style.
Image: Browse and select an image of your signature.
· Save Signature: When this check box is selected, and you are signed in to Acrobat Reader DC or Acrobat DC, the added signature is saved securely in Adobe Document Cloud for reuse.
Click Apply, and then click at the place in the PDF where you want to place the signature or initial.
To relocate the placed signature or initial, click the field to highlight it and then use the arrow keys.
Finally, make sure that you have made a selection in the form (choose one of the two boxes), and that you have included the date.
Do you need urgent help with this or a similar assignment? Say no more, we have just the experts you need to help you. Place your order.