Module Learning Outcomes (from module syllabus)
• Prepare control reports which show original, flexed and actual budgets
• Calculate key variances.
• Evaluate decisions using relevant costing
• Demonstrate decision making abilities under risk.
TASK DESCRIPTION
Amana Ltd is a family-owned tourist business located in England which sells souvenirs to tourists. They have several locations in tourist hotspots across England namely Brighton, London bridge, Westminster bridge, Buckingham Palace, Birmingham city centre and Manchester city centre. Souvenirs are produced by a Chinese manufacturer specifically according to designs made by the Amana team.
They have been operating a successful business for 40 years and have come to understand the dynamic nature of the tourism industry. Recently, the Covid-19 pandemic broke out in England leading the government to impose restrictions on movement and travel which severely impacted the tourism industry. Amana's revenue took a big hit in April 2020 as tourists could not travel for the Easter holidays, sales picked up slightly in the summer of 2020; however, the prolonged lock down between December 2020 and February 2021 depleted any additional revenue that had been made in the summer.
In the past, Amana ltd has only traded within physical stores with a functioning website serving as a channel for
marketing their business. Mr Amana, the owner of the business has hired you as a manager and provided a cost break down of their products.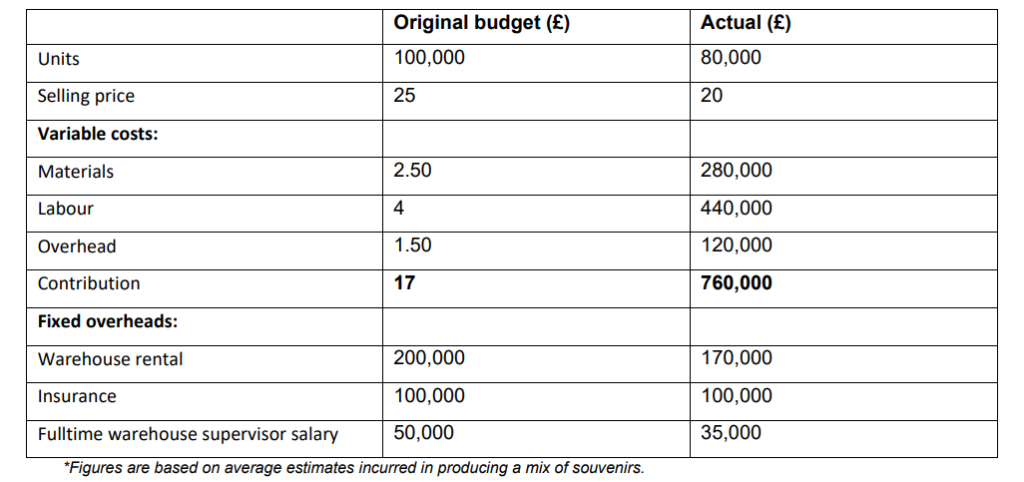 Required:
(i) Prepare the monthly control report showing original budget, flexed budget, and variances. (25 marks)
(ii) Using your control report prepared in (i) above, prepare a report on Amana's performance during the year 2020 (20 marks)
(iii) Provide recommendations to Amana's CEO on areas of improvement. (15 marks) (1500 words, TOTAL = 60 marks)
PART B
Mr Amana has noticed that a lot of his competitors now sell online to customers in the UK, Europe and US. He has been considering closing the Brighton, Birmingham city centre and Manchester city centre branches in order to streamline the business activities and move 50% of their sales online. Several factors have to be taken into consideration when making this decision.
i) Cost of setting up delivery network – £150,000
ii) Cost of upgrading current website to handle large volume of sales – £50,000
iii) Salary of a fulltime IT programmer – £35,000 per annum
iv) Based on market research, there would be guaranteed sales of 100,000 units annually
The business also has the alternative of selling their products directly on Amazon and would have to take the following factors into consideration when making this decision.
i) Amazon fulfilment fees – £50,000
ii) High levels of competition between Amana souvenirs and other sellers on these platforms – Guaranteed sales of 65,000 units on Amazon annually with the potential to increase depending on demand.
iii) Lack of control over pricing and return policy.
Required:
In your report, provide an analysis of Mr Amana's decision to go online and advise if they should set up their own online shop or sell on Amazon. You should take into consideration all the relevant costs. (1000 words, TOTAL = 40 marks)
Do you need urgent help with this or a similar assignment? We got you. Simply place your order and leave the rest to our experts.