Case study
Your company has been invited to submit a briefing paper for a regional People Practice event that will share insights and good practice on a range of people practice processes and practices. The topic area that your manager has chosen is 'evidence-based practice' and has selected you to represent the company by creating the briefing paper for the event.
In addition, your manager has asked you to analyse and review three sets of performance data in readiness for the forthcoming heads of department meeting.
Preparation for the Tasks:
 Refer to the indicative content in the unit to guide and support your evidence.
 Pay attention to how your evidence is presented, remember you are working in the People
Practice Team for this task.
 Ensure that the evidence generated for this assessment remains your own work.
You will also benefit from:
 Reflecting on your own experiences of learning opportunities and training and continuing professional development.
 Reading the CIPD Insight, Fact Sheets and related online material on these topics.
Don't forget to:
 Complete the front cover sheet and place at the front of your assessment.
 Use the bullet points below each task as headings and sub-headings so your marker can see
where your answer begins
Task One – Briefing Paper
You have been asked to prepare a briefing paper that is to be given to people practitioners at a
regional event, to share insights and good practice. The paper needs to provide understanding of
approaches that can be taken to support effective critical thinking and decision-making within the
HR remit.
Your Briefing Paper needs to:
 provide an evaluation of the concept of evidence-based practice and assess how evidence-based practice approaches can be used to support sound decision-making and judgments for people practitioners across a range of people practices and organisational issues. (1.1)
 evaluate two micro and two macro analysis tools or methods that can be used in people practice to explore an organisation's micro and macro environment, and how those identified might be applied to diagnose future issues, challenges and opportunities. (1.2)
 explain the principles of critical thinking and give examples of how you apply these yourself when relating to your own and others' ideas, to assist objective and rationale debate. (1.3)
 assess at least two different ethical theories and perspectives and explain how an understanding of these can be used to inform and influence effective decision-making. (1.4)
 explain a range of decision-making approaches that could be used to identify possible solutions to a specific issue relating to people practice. (2.3)
 as a worked example to illustrate the points made in 2.3, take this same people practice issue, explain the relevant evidence that you have reviewed, and use one or more decision-making tools to determine a recommended course of action, explaining the rationale for that decision and identifying the benefits, risks and financial implications of the suggested solution. (2.2 & 2.4)
 compare and contrast a range of different ways and approaches that are used to measure financial and non-financial performance within organisations. (3.1)
It is essential that you refer to academic concepts, theories and professional practice for the tasks to ensure that your work is supported by analysis. Please ensure that any references and sources drawn upon are acknowledged correctly and supported by a bibliography.
Your evidence must consist of:
 Briefing paper (2,900 words)
Task Two – Data Analysis and Review
In preparing for the forthcoming department heads meeting your manager has asked you to prepare a range of information and interpretations for use at the meeting.
Below are two sets of data that have been collected by a 360-degree review for Department 'A'.
Table 1, is the feedback that has been elicited from employees on their line-managers and table 2 is from the customers that use the services and goods from Department A.
Use analytical tools and methods to review the two data sets to reveal any themes, patterns and trends. (2.1)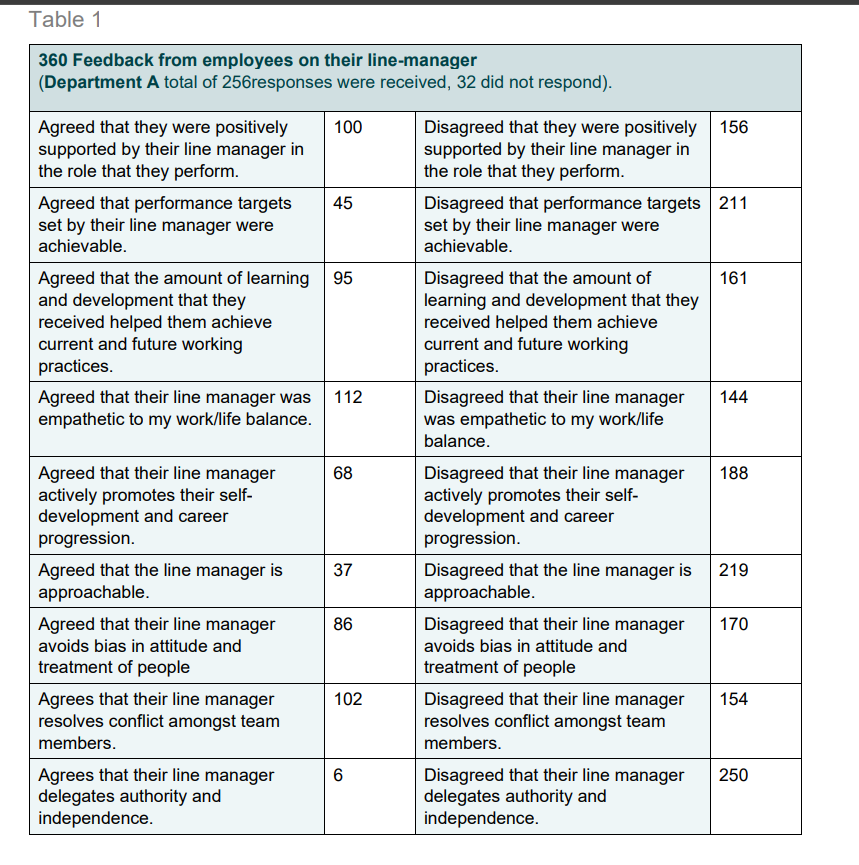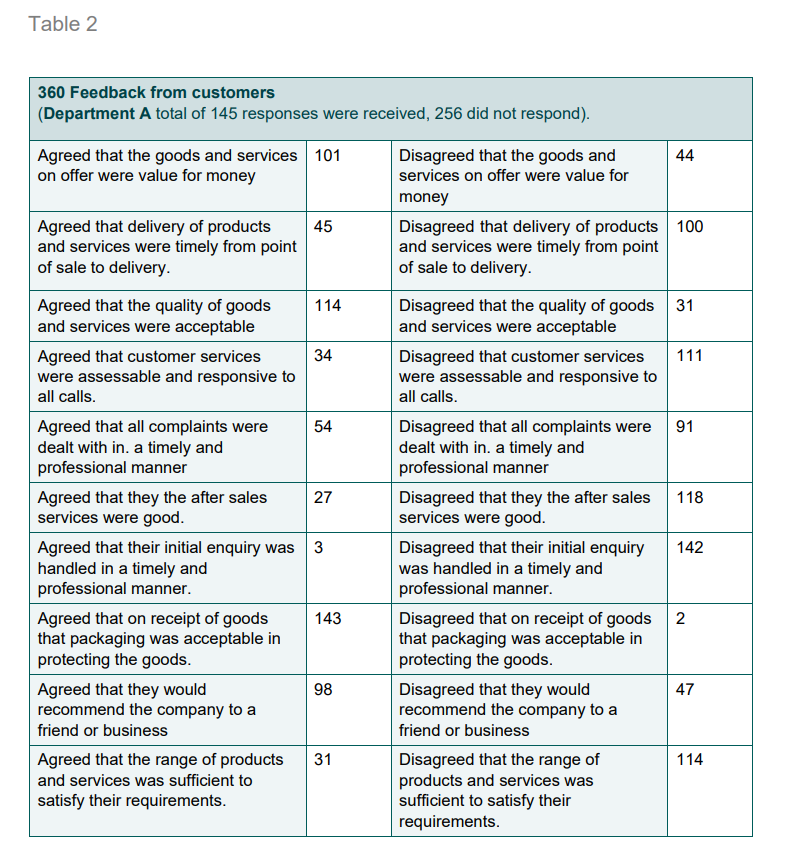 From this analysis, graphically present your findings using three or more different methods (3.3).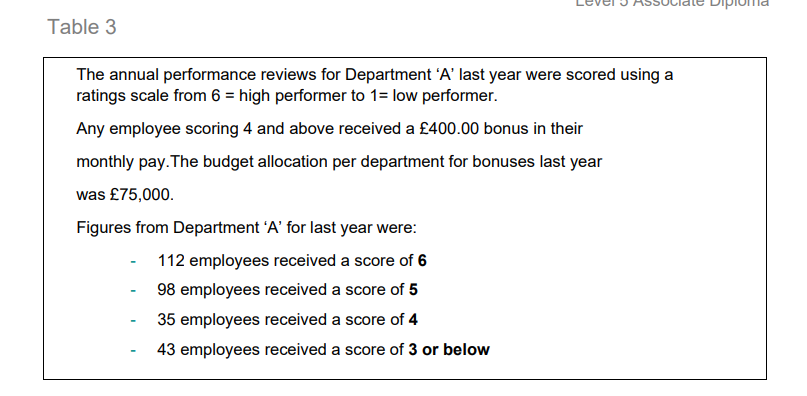 Using a variety of measurement tools and techniques and the data provided in tables 1, 2 & 3, explain the likely impact and value of these aspects of people practice currently in place in Department 'A'. What other people practice measures might usefully be employed in Department 'A'? (3.4)
 Identify the key systems and data used within effective people practices, to give insights by measuring work and people performance (3.2)
 Explain how people practices add value in an organisation and identify methods that might be used to measure the impact of people practices (3.4)
Your evidence must consist of:
 Data analysis and review documents (1,000 words)
Do you need urgent help with this or a similar assignment? We got you. Simply place your order and leave the rest to our experts.